You remember when i was all palnny planny for my wedding? well, it happened, now i'm married, and i guess i forgot to ever post pictures! I'm sorry! i was axtually planning to write up a big post all about the whole day, i even know exactly what i'm going to say, but i am always too tired or lazy or busy. someday soon i shallw rite up a big essay on"My Wedding Day", but for now, here are some photos! theres are actually the only shots i have on the computer right now. i got all the negatives from my mother a few months ago, but to get reprints of film is expensive, it costs per photo printed rather than for the whole roll. so i hae to wait until i have spare money efore i get my 6 rolls of film reprinted! then i'll have a million more photos to show you. hehehe. and the whole satory of the whole day.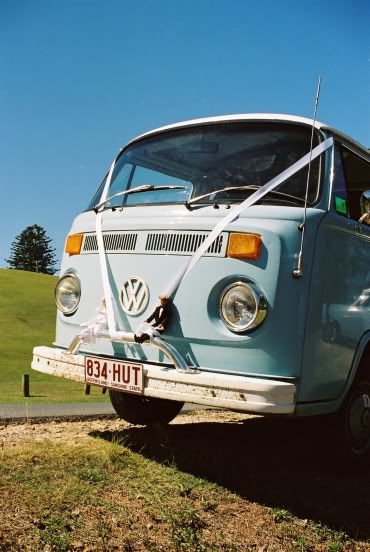 This is my wedding chariot! It's my dad's Combi, if you look closely you can see the wedding Barbie and Ken dolls that my mum bought and had attached to the front of the car. Heheh, i lvoed that, it was so ME.




This is the bridal praty walk down the "aisle", which was a bit of a hill. there was a pretty little hill with stairs leading UP to the ceremony site, which was covered voe rin trees. MY brother and his girlfriend decorated the area and the stairs with rose petals and little posys of flowers and ribbons of the wooden hand rail. the guests waled up the stairs to to get to the site. so did my bridemaids. then ia rrived from a different direction, i came out of the combi, which we parked at the top of another incline, and walked down the grassy area.heheh, tricked those wedding guests good! My bridemaids came across the grass to meet me and help me out of the car, and my dad took myarm to walk me across the grass (aisle). I was scanning the grass for james and when i saw him, tears welled up in my eyes. i donmt know why! by theni was so scared (or nervous) that i asked dad to hold my hand, and i held onto his very tight until we got to the area.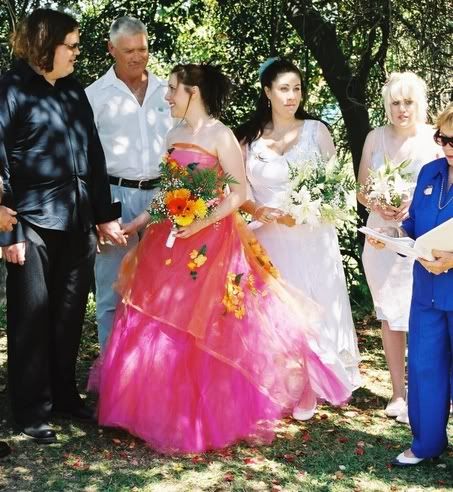 The Bride and Groom being married. My father is there standing between us because the stupid celebrant included the "who goves this girl away" part, even though i had specifically told her i didnt want it in there, just my dad would walk me down the aisle. stupid old woman. ALSO, i had written the wedding ceremony, some of my own writing and some peiced together fro other ceremonies, and i had posted in a wedding community here on lj. when you do such a thing, you dont include last names. one girl commented on ym post with a few suggestions, which i copy and pated into my ceremony. that girl had mad eup my last name for one part of the suggestion, which i accidently copied, saved, and sentto the celebrant. i immediately told her about the error, and that hill is not my actualy last name, thomson is, and she would need to change the document is ent her. unfortunately she was stupid, and called me "Cassandra hill" during my wedding ceremony! i had to laugh and say "thats noit my name!" but luckily, she got it right on the actualy marriage certificate! soon after the ceremony began, i grabbed james' hand and didn't let go until we had toe xchange rings. one part of the ceremony calls for the bride and groom to clasp hands, but we already were, and everyone laughed. also, james left his sunnies on for the first minute or ywo of the ceremony, and he had a big fumble around not knowing where to put them. hee, cutie!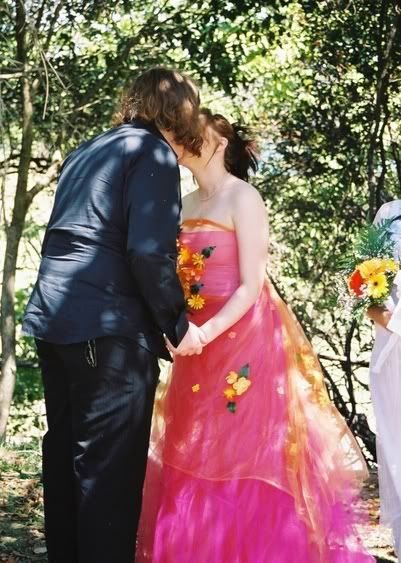 ahh the kiss. we actually had to do this twice because the celebrant didn't think everyone got enough time to take the photos.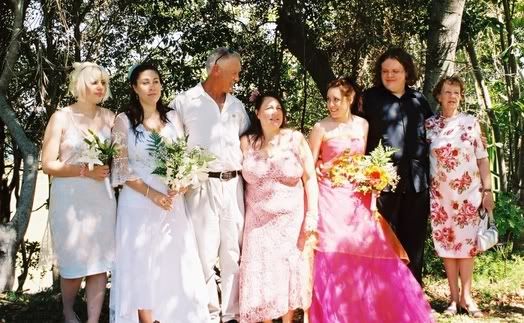 The wedding party, minus the best man because he was taking pictures. from the left;
Rochelle (my best friend), bridesmaid; Dannielle (my sister), Girly Girl of Honor ( we thought maid sounded so old); Father of the Bride; Mother of the Bride; Bride;Groom;Mother of the Groom.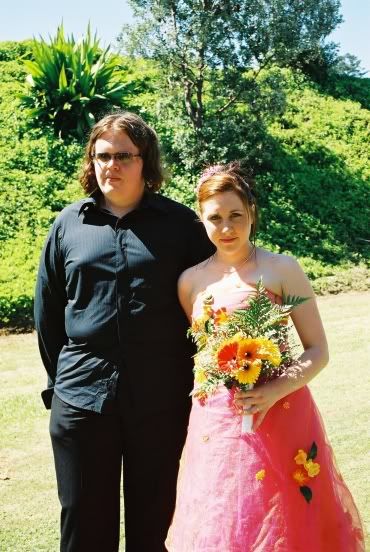 James and I posing for photos after the ceremony. You know at the end of a wedding ceremony, where everyone congratulates the happy couple, and the wander round to everyone? well we didn;t really know what to do, so we just kinda split up! we walke din 2 different direction, he wwent to his family and i went to my friends and family. no one really told us we should walk around together. wish soemone had, felt kind weird to get amrried, be kissing and hugging everyone who is patting you on the back, but not havingthe guy you just married right next to you :(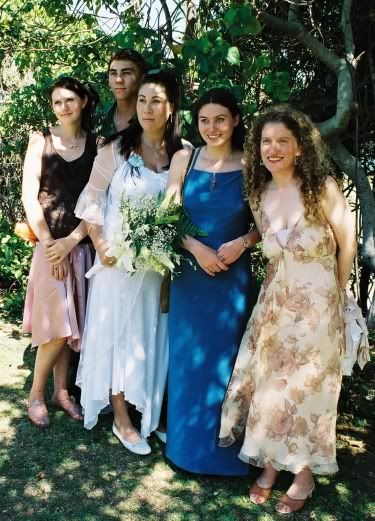 Guests. from left: Bonnie (my brothers girlfriend); My brother, Dylan; Dannielle; Elliane (a friend of my sister and I. she was the entertainment before the ceremony, she sang and played guitar); and Dylan, a friend of my mothers.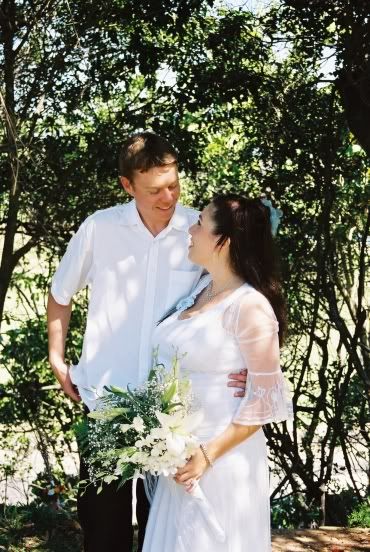 My sister and he boyfriend. Because she wa sin all white, and he was in a nice white shirt, everyone looks at the photos and thinks we had a double wedding. hehehehe. as i said to Danni, she and Jason could just sign the papers, they already have the photos.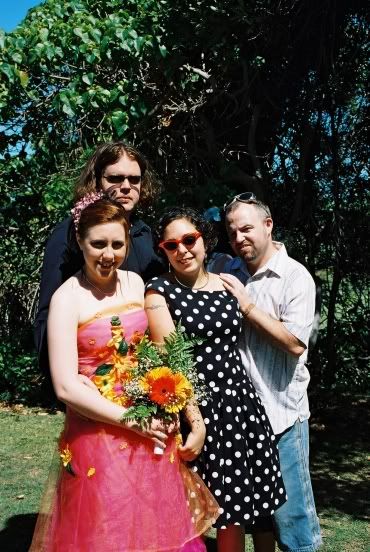 James and I with friends Briellen and Darryl.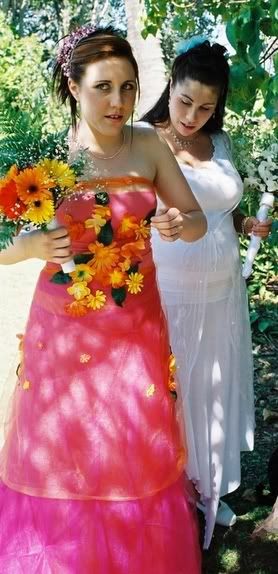 Danni fixing my dress.

so thats about it for now. at leats you had a good look see at my dress!